It's the 3rd of July, I have a rare day off and it's finally warming up. I'm going to blow off the housework for now and go outside and pull weeds. When I'm done with that, I'm going to set up my reclining lawn chair and knit. Just sit in the sun and knit.
So today, I give you a
Friday Fill-In
.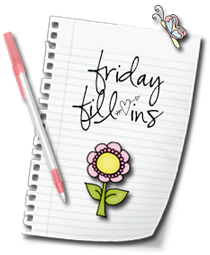 Graphic courtesy of
Tonya
!
And...here we go!
1. When I heard
yelling from the other room,
I
ignored it and hoped that Addie and Lily could work out their problem on their own
.
2.
Ice and Ibuprofen are the
best medicine.
(Fight club is kicking our butts lately)
3. It's late, but
there's still a lot of the day left!
4.
Laugh
always.
5. My eyes have seen
the girls make up their own rules to Shoots and Ladders
.
6.
Love
strongly.
7. And as for the weekend, tonight I'm looking forward to
spending time playing with the girls
, tomorrow my plans include
a parade and a cookout with new friends
and Sunday, I want to
eat deep fried pickles and sing Happy Birthday to my little sister
!